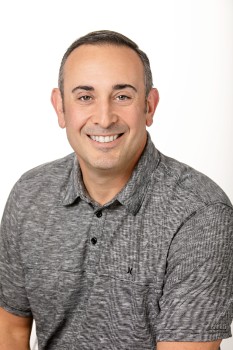 Tony Selvaggio
Account Executive
Phone: 310-733-9265 | Email: tselvaggio@rockerbrosmeat.com | Area: San Gabriel Valley / Inland Empire
Tony Selvaggio has 29 years of experience in the meat and food service industry. He started his career working as a meat clerk and cutter for Stater Bros. for 4 years. From there Tony went to work for his uncle at Lido Veal & Lamb for 13 years. There he was taught the "ins and outs" of the business from the ground up.
He started in shipping and receiving, then moved into the cutting and production room, and then on to sales which is where he's been ever since. At Lido, Tony worked primarily with food service companies and major retailers across the country, developing programs for their specific needs. After working at Lido, Tony started working at Papa Cantella becoming their regional retail sales manager, working with companies such as; Costco, Trader Joe's, Sprouts, Stater Bros., Albertsons, Vons, and Safeway. Here he once again developed meat and home-meal replacement programs. Five years ago Tony started working for Rocker Bros Meat & Provision, Inc.
Tony made the move from retail sales back to food service sales because he felt that our retail markets were lacking the quality of products and creativity that he had experienced with chefs in the restaurant business. As a salesman for Rocker Bros., Tony is always looking for new and exciting ways to help his chefs improve their menus. Tony is very knowledgeable regarding the product and works extremely well with his clients.