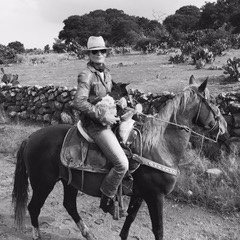 Debbie Rocker
Account Executive
Phone: 310-738-6487 | Email: debbie@rbpureandnatural.com
Debbie Rocker hails from a long line of meat people. She is a serial entrepreneur, a passionate animal lover, and a new-age saleswoman. Her family has been in the wholesale meat business, serving well-known chefs and fine restaurants in Los Angeles for over 50 years. At Rocker Bros Meat & Provisions, Debbie combines all of her passions, seeking out and working closely with regenerative ranchers and then bringing those humanely and sustainably farmed meats to Rocker Bros.
'Simply stated, my job is to put the best tasting piece of meat on your plate. What could be better?'
Additionally The Rocker family has, over decades, perfected the art of MEAT MAINTENANCE. It's temperature and moisture control, special breathable and non breathable barriers, moisture tracking, wet and dry aging, hand selecting primals piece by piece, ongoing testing, custom cutting and packing meats to Chef's specifications. These processes are all set up for Rocker to deliver the finest eating meats to the pickiest customers on the planet – our chefs.